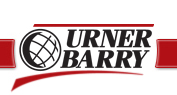 Red Meat Reporters


Joe Muldowney

Joe Muldowney is vice president of the red meat division for Urner Barry, a Toms River, NJ based company that specializes in the reporting of market news to clients in the food industry. In addition to his responsibility with the red meat group, Joe is also responsible for functional areas of sales and customer care at Urner Barry.

Joe graduated from Siena College in Loudonville, NY with a Bachelor of Science Degree in business administration.

In addition to his duties at Urner Barry, Joe has served on the Board of Directors for the North American Meat Processors Association, was a member of the NAMP Program Planning Committee and was chair of the their 2005 Management Conference.

He joined Urner Barry in 1989 as a COMTELL sales representative. In 1992, he became a market reporter for Urner Barry's new acquisition, The Yellow Sheet which publishes red meat markets and commentary twice daily. Joe reports on several red meat markets, is editor of Urner Barry's Yellow Sheet, managing editor of Urner Barry's quarterly Reporter newsmagazine and is on the team that produces Urner Barry video content.

Joe and his wife Joanne have two sons, and reside in Toms River, NJ.

Jim Kenny

Jim Kenny is director of business development for Urner Barry and is also responsible for market reporting in the areas of pork and seafood.

Jim's professional interests include strategic planning, product development, and sales and marketing activities. He brought the Commercial Guide to Fish and Shellfish, and numerous other products to market.

Jim graduated from Monmouth College in West Long Branch, NJ with a Bachelor of Science degree in business administration and a concentration in finance. He was later conferred a Masters of Business Administration by Monmouth University.

In addition to his duties at Urner Barry, Jim was a contributing editor to Meat Processing Magazine, served on the Annual Meat Conference Advisory Committee, and was an annual convention chairman for the 2008 North American Meat Processors Annual Convention.

He joined Urner Barry in 1994 as national accounts representative in their instant market news division and was later promoted to the position of boxed beef market reporter. He also served as manager of the Instant News Department for the firm. Prior to joining Urner Barry, Jim worked for The Great Atlantic & Pacific Tea Company and independently at the New York Stock Exchange.

Jim and his wife, Melissa, have one son, Christian. They reside in Wall, NJ.

Bill Smith

Bill Smith is a market reporter for Urner Barry where he is responsible for reporting in the boneless beef, lamb, veal and by-products market.

Additionally, Bill's responsibilities include managing the Instant Market News Department for Urner Barry and serving as the editor of the Meat & Poultry Directory and Who's Who in the Seafood Industry.

Bill also acts as the building manager for the company and has been heavily involved in making Urner Barry an eco-friendly "green" company with the addition of solar panels, among other environmentally friendly company initiatives.

Bill graduated from Indiana University of Pennsylvania in Indiana, PA with a Bachelor's of Science degree in management and upon graduating college in 2001, he joined Urner Barry as an account Manager in their sales division and was later promoted to the position of market reporter.

Bill and his wife Marisa have a son and a daughter, Will and Lindsay. They reside in Bayville, NJ.

Bruce Longo

Bruce Longo is the boxed beef market reporter and human resources coordinator for Urner Barry.

Bruce initially joined Urner Barry in October of 2003 as the national accounts manager and was promoted to his current positions in 2004.

Bruce graduated from Glassboro State College (now named Rowan University) in 1977, with a Bachelor of Arts degree in health and physical education.

Prior to joining Urner Barry, Bruce spent over 20 years in the medical equipment manufacturing industry, specializing as a rehab supply specialist and managed his own independent manufacturing sales firm during the last seven years.

Bruce and his wife, Jennifer, have one daughter, Ali. They reside in Toms River, NJ.

Russell Barton

Russell Barton is a market reporter for Urner Barry, where he is responsible for reporting on the pork market.

Russell joined Urner Barry in April 2011; his professional interests include project development and management, media relations and financial analysis.

Russell graduated from the University of Delaware with a Bachelor of Science in economics.

Prior to employment at Urner Barry in April, Russell was a full time student and held a part-time position as an automotive mechanic.