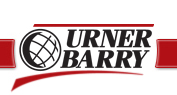 What's New


Urner Barry Making Waves in social media

Urner Barry takes pride in its storied tradition of adapting its market news and analysis service to the ever evolving technological universe and 2011 proved no different as Urner Barry ventured into the world of social media.

Users are now encouraged to visit Urner Barry on Twitter and Facebook and join the social discussion among the protein industry.

Browse Urner Barry's Facebook page and see who's "Friends" with who in the industry. View Urner Barry's photographs from company events and milestones. "Like" Urner Barry to recieve daily updates and special offers on any of Urner Barry's many print and online services.

Additionally, visit Urner Barry on Twitter, where the company provides daily market insights, graphs and news in the industry. "Follow" Urner Barry's five commodity pages for key information in all the markets or simply choose the commodities that most interest you.

Urner Barry urges everybody to hop online and join the discussion!